Editing photos with Advanced Photo Editor
You can edit your photos inside FlickStackr/PhotoStackr using the Advanced Photo Editor powered by Aviary. Apply filters, frames, stickers, or retouch your photos at upload time or at any time after the upload
The following tools are available in the Advanced Photo Editor:
Enhance Filter: Enhance your photo's using the Aviray's magical Enhance Filter
Tools for Lighting: Brightness, Saturation, and Contrast
Tools for adjustments: Orientation, Crop, and Sharpness.
Tools for cosmetics: Red-Eye, Whiten, and Blemish.
Tools for fun: Stickers, Drawings, and Text
Effects: Ten beautiful stylistic effects.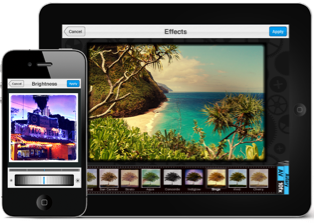 Editing photos at upload time
When you have added photos to the Upload list you can edit them before uploading.
To launch the Advanced Photo Editor:
From the Upload List tap on the photo you wish to edit. The Edit Photo screen will appear, tap on the Preview and Editor tab.
Tap on the Photo Editor button.
Add an effect, sticker, crop or change the lighting in your photo using the tools available at the bottom of the screen

When you have finished editing your photo tap on Done.
Back in the Edit Photo metadata you can tap on any of the tabs to edit your photo metadada and tap Save when you have finished with all the editing.
If you wish to edit any other photo with the Advanced Photo Editor repeat steps 1-5, until all your photos are ready to be uploaded.
Tap on upload all to upload all the photos in the Upload list, or tap on the Edit button to select some photos from the list.
Last updated July 25, 2013